Vouchers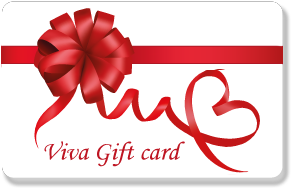 Vouchers are perfect for every occasion
Birthdays and anniversaries…graduations and weddings…Vivas Vouchers are perfect for every gift-giving occasion and any age group!
Let the recipient of your generosity join us for the finest Italian cuisine. Vouchers are available for purchase at the restaurant, by telephone or E-mail.
Welcome to Viva
Situated in beautiful surroundings of the county town of Matlock, Derbyshire Viva restaurant creates an environment to enjoy the true taste of Italian and contemporary cuisine.
Viva is a modern, glamorous restaurant which offers traditional Italian cuisine made from only the freshest and finest quality ingredients. Enjoy a totally different dining experience at Viva, our open kitchen brings the restaurant to life and this friendly and lively atmosphere is ideal for parties, functions and business meetings.
told about us
"Italian Cooking at it's best"...
Restaurant Review written by Sharon Shirley
The contemporary & glamorous surroundings of Viva Italian Restaurant on Dale Road Matlock and the simple Italian food they serve make for an unforgettable Italian experience.
Italian cooking is all about using the freshest possible seasonal ingredients and skilfully using basic cooking techniques to enhance their flavour.
You can witness the cooking techniques for yourself at Viva as it has an open kitchen which brings the restaurant to life, this friendly lively atmosphere is great for parties, functions and business meetings.
It was my pleasure recently to go along with my partner to savour the delights of Viva Italian Restaurant.
The warm & friendly staff greeted us both and directed us to our table. There was lots to choose from their extensive menu .My partner ordered 'Special Olives' for his starter and I ordered Bruchetta. The olives had been marinated in olive oil and were served beautifully with shavings of parmesan, herbs rocket with some garlic bread on the side.
My Bruchetta looked so appetising, chopped cherry and sun dried tomatoes, basil,rocket , feta cheese, olives and red onion served on ciabatta bread, with parmesan shaving and drizzled with balsamic vinegar the combination of the fresh flavours was delicious. I had a glass of house wine and my partner had a Peroni beer with our meal, which we enjoyed whilst waiting for our main to be cooked.


www.dalesdirectoryonline.co.uk